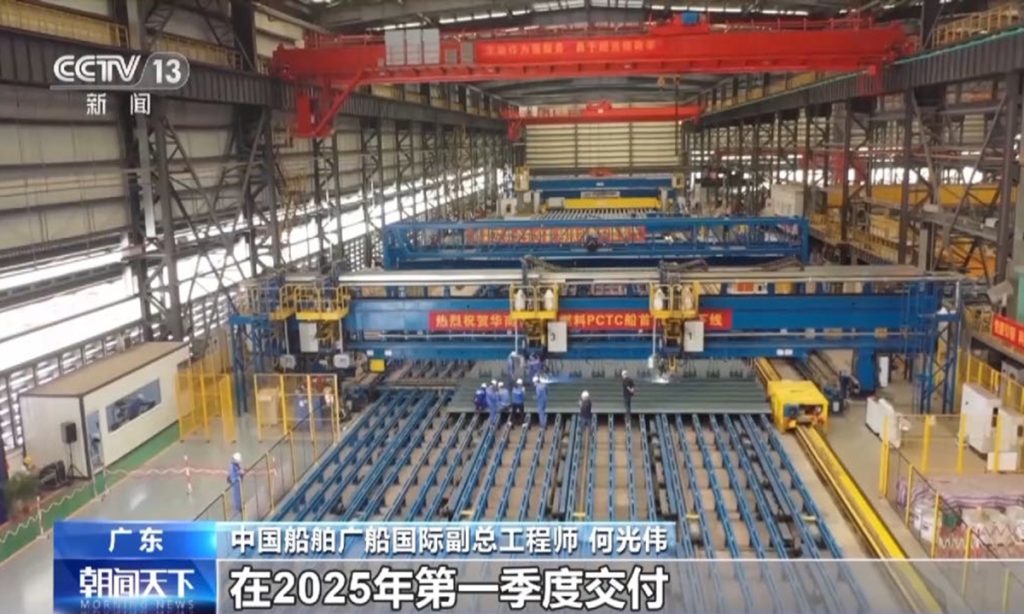 Construction on China's first deep-sea multi-functional scientific investigation and cultural relic archaeological vessel officially began in Nansha, Guangzhou, South China's Guangdong Province on Sunday. The ship is expected to be completed and put into operation in 2025, CCTV reported on Monday.
According to the report, the ship has a total design length of approximately 103 meters, a designed displacement of approximately 9,200 tons, a maximum speed of 29.63 kilometers per hour, a reach of 15,000 nautical miles, and can accommodate up to 80 crew members.
The vessel is a new type of multi-functional scientific research vessel capable of conducting deep-sea scientific investigations and cultural relic excavations, as well as polar sea area investigations in summer.
The ship has a number of iconic features, including unrestricted waterway navigation, manned diving, deep-sea detection and heavy-duty safety payload capabilities, providing the necessary sample and environmental data for forefront geological, environmental, and biological sciences research in the deep and remote ocean.
It also provides related discipline guidance and underwater operations support for deep-sea archaeology, while supporting sea trial and use of core deep-sea equipment.
In the future, the vessel will become an open and shared maritime platform for multi-system integration, interdisciplinary crossover, and collaborative innovation in China, which is of great significance for strengthening China's substantial presence in the global deep-sea research, enhancing China's deep-sea archaeological capabilities, and realizing full-scale access to the global deep sea.
Song Jianzhong, a researcher at the National Centre for Archaeology, told the Global Times on Tuesday that the ship would provide solid support for Chinese deep-sea archaeology.
Two ancient ships carrying numerous cultural relics were discovered in October 2022 in the South China Sea at a depth of about 1,500 meters, and are currently undergoing excavation work.
He Guangwei, deputy chief engineer at the Guangzhou Shipyard International Company Limited, stated that there is currently no ship in China capable of conducting manned deep-sea scientific investigations in polar regions. The construction of this vessel will fill this gap.
This ship is designed to conduct manned deep-sea scientific investigations in polar regions while also being able to carry out cultural relic archaeology and operations in the South China Sea. The ship has many key technologies, including icebreaking capabilities and anti-freezing materials for polar environments, and related operating and detecting equipment for scientific investigations in polar regions.